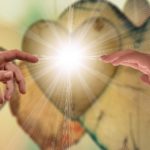 Key events in our life can be a good opportunity to contribute to the financing of a social project in a relatable way.
A birth, a baptism, a communion, a birthday, a sporting challenge, a bachelor party, a marriage, a retirement, … These are all great opportunities to invite your friends and family to sponsor one or another initiative of our association!
Becoming a godmother or godfather means helping to fund projects! Whether it is Saint Nicolas' gifts for children, end-of-year holiday meals or Easter eggs, it is making this little extra bit possible that makes a difference in everyday life.
If you wish to sponsor a project within Chèvrefeuille asbl, please contact the Director, on 02/648 17 78.